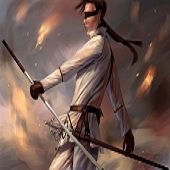 Core Clan Member

Posts: 2175
Joined: Fri May 14, 2010 3:15 pm
Location: Everywhere, Every Universe.
General In-Game Name:
I am in no way promoting this game... except for the game-play itself.

I am posting this here because A) it is off-topic B) it involves a game C) I find it humorous.

Evony... great game. Used to play it, but I went on vacation a year or two ago and forgot about it. You start with a city, and you have to build up defenses, troops, etc. You can (provided you are high enough rank) build new cities or conquer other peoples' cities.

Hate the advertisements for it. At first, they were relating to the game. Knight shouting, the game name, etc.

Now, they have... inappropriate things. Now, they have women posing nude (and sometimes topless) with the small word "Evony" in the corner. In big letters they say "Come play with me, my lord." Wow.

Just now, as of a few minutes ago, I saw a new ad. It had four cities, unaligned (unlike in the game), and the "owners" were girls. They had little talk bubbles above them saying "Join my alliance," "Join me, and fight together," etc. At the end of the advertisement, it said, in big words, no joke, "There are 6 million girls playing on line right now. Find someone to play with today!"

>.>

I am doing this, mainly because I've heard from numerous sources that these ads are popping up all over the place... and no one likes them...

Have you seen any ads where you'd least expect them?
Last edited by
Lt. Voss
on Sat Oct 23, 2010 6:36 pm, edited 1 time in total.
Come check out my stuff if you want. Love to hear back from people.
If you're looking for something to watch or have any suggestions of your own, drop on by.