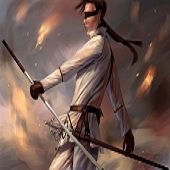 Core Clan Member

Posts: 2175
Joined: Fri May 14, 2010 3:15 pm
Location: Everywhere, Every Universe.
General In-Game Name:
I just recently started playing like a couple days ago (start of the week I believe) and so far, while the grind to level/rank up is a bit tough/long, I've been having quite a bit of fun with it, and I'd assume I'd have even more fun if I had people to play with. When I saw it supported clans, and that clans had an actual purpose with things to do rather than simply adding a tag to your name, like building up your "dojo" which will open up new opportunities and research/upgrade new weapons and frames with it all being funded (resource wise) by the clan members, I thought it too good to be true.

Basically what I'm getting at here is how many of you play/played Warframe? It's been ages since I've done anything with you guys, even so much as posting on the forums (life tends to do that), so I thought, "Hm. This game is fun and free to play, and if my crap computer can play it than most anyone else can too, why not ask?" Maybe if you'd like we can get a match or three going. Oh, my name's Dynerman in the game; I wonder if I can change to something a little more familiar, like LtVoss or something.
Come check out my stuff if you want. Love to hear back from people.
If you're looking for something to watch or have any suggestions of your own, drop on by.