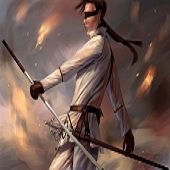 Core Clan Member

Posts: 2175
Joined: Fri May 14, 2010 3:15 pm
Location: Everywhere, Every Universe.
General In-Game Name:
I am feeding the melodrama troll.

Pale, I'm sorry to hear that. Man, that must feel horrible... er... I mean... I'll stop now.

It's hard enough to say "I love you" as it is, but when you eventually lose interest... it's even harder. I've never gone through what you are now, seeing as how nerd =/= "safe to date," but I've heard my friends, some of them very close to me, tell me about it, and I guess it's my creativity, but I always feel... like a pain, or compression, is going on where my heart is.

With my 0.0001% experience with this type of thing, all I can say is use your head; come up with a way to softly just be friends. Of course, easier said than done, but hey. Can't hurt to try.
Come check out my stuff if you want. Love to hear back from people.
If you're looking for something to watch or have any suggestions of your own, drop on by.