I made a decent post in another thread about this. As requested, this is a new thread all about how to make a computer fan work with a PSU molex connector.
____________________________________________________________________________
A well-built computer will need at least three fans running to keep it cool; PSU (Power Supply) fan, CPU fan, and at least one case fan. Depending on what type of hardware, computer usage, and environment, you may need more fans to keep it cool. Some motherboards only have two or three spots to connect fans (note: most PSU's have a built-in fan, this is fine). The CPU fan will occupy one spot on the mobo, possibly leaving only one open spot for the case fan.
One case fan may or may not appear to be enough for now. But if you have the option, always use more than one case fan. Firstly, heat is the number one killer of computer hardware. The cooler it runs, the longer it will last. Secondly, you want a backup case fan if one fails. Of coarse, if you have good hardware, you want to protect it. There is no reason to skimp out on a $5 fan if you burn up a $100 processor. It is like insurance.
One way to connect additional fans is via the PSU connectors. You can buy an adapter that connects a 2/3-pin fan connector to a 4-pin molex connector on the PSU power wires. This is usually the preferred method because most fans you buy come with an adapter. You can also purchase an adapter separately from newegg or somewhere.
Another way to attach a fan to a computer PSU is by pin-out. You can remove the pins from the fan connector and push them into the molex connector. Doing this also gives you the option of running the fan at 5 volts or 12 volts. The 12 volt connection is preferred first to get the max airflow (cfm: Cubic Feet per Minute). The 5 volt method is great if you need the fans to run quietly but they will flow a lot less air so be careful. Also, some fans will not always run on 5 volts, so test it out a few times. Five to seven fans running on 5 volts is usually quieter than two fans running on 12 volts.
Enough
info about that stuff. Now for the pics and instructions. I took these pics of some stuff I had lying around. This is how to pin out the fan connectors and make them work with a PSU molex connector. Notably, doing this is not permanent like cutting wires. After the fan pins are out, you can actually put them back in. So it is easily reversible and now you have no excuse not to try this.
0)
What you need:
- PSU with one free molex connector
- computer fan with the usual fan connector
- small flat-head screw driver
1)
This is a PSU and shown is the molex connector. The molex connector is generally used to supply power to a disk drive or CDROM drive. It has other uses too, like fan connections.
2)
Here is the fan connector. There are two-wire, three-wire, and four-wire fan connectors. All-wire fans operate basically the same way. The fan needs two basic wires to operate, positive and negative. The
positive wire is red
and the
negative wire is black
(negative wire is black). The blue wire is for fan speed monitoring. The yellow is for... something else that I can't remember. I've only ever seen the yellow wire on some CPU fans, so it's kinda irrelevant anyway.
3)
Remove the fan pins. Start by lightly pushing the screw driver tip into the slit. Usually, the corner of the tip is best as shown in the pic. While you push on the pin, pull on that wire.
4)
The fan pin is loose.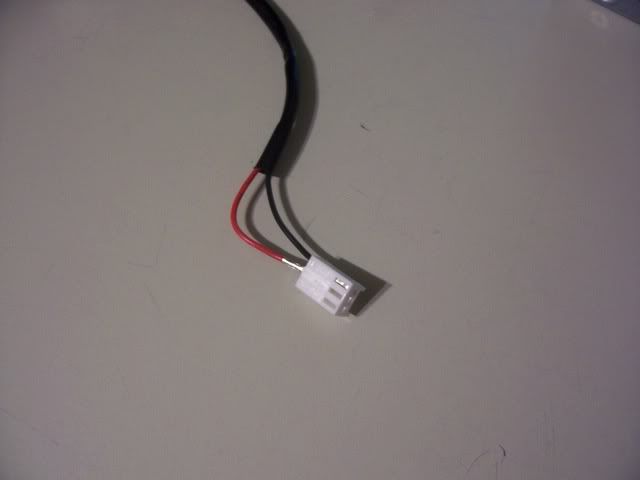 5)
One pin is out.
6)
Now do the other pin(s). Afterward, it should look like this.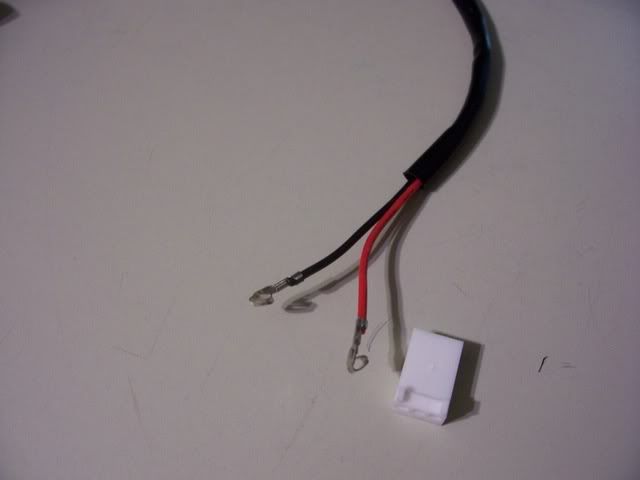 7)
Here is your four pin molex connector (aka hard disk or CDROM power connector). It has four wires, 12 volt positive, 12 volt negative, 5 volt positive, 5 volt negative. The +12v and -12v wires are YELLOW and BLACK. The -12v wire is the one closest to the +12v wire. Make sure you do not mix the negative wires, as they are different in function but same in color.
8)
To have the fan run on 12 volts (normal), push the
RED
fan pin into the
YELLOW
molex pin. It should pop in snugly as shown.
As a note, there are occasionally some fan-pins that simply won't fit in the molex-pins. You can pinch the fan-pin a little with your fingers to make it smaller, or gently pry the molex-pin open a hair.
9)
Now fit the BLACK fan-pin into the BLACK molex pin that is right NEXT TO the yellow molex wire. Make absolutely sure you don't put it in the black molex pin next to the red wire.
Look and see how I separated the 12 volt wires from the 5 volt wires. Only use the correct pair of wires for the job. Do not cross a +12v with a -5v, or vice versa.
10)
Success. A close-up pic of how it should be done.
It is a good idea to wrap electrical tap around the connection for added protection. If you are doing this with a 3-pin or 4-pin fan, tape or safely cover the blue and yellow fan-pins (or just leave them in the fan connector).
Do this at your own risk, of coarse. I've run one case fan like this for over a year and it hasn't ever had an issue. Test, play, and relax. You now have a cooler running, well-built machine.