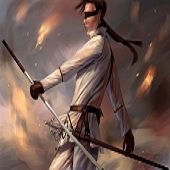 Core Clan Member

Posts: 2175
Joined: Fri May 14, 2010 3:15 pm
Location: Everywhere, Every Universe.
General In-Game Name:
Okay, so I recently got Windows 10, mostly because it was free, it didn't seem to be much of a change from 7 (to me, it seems like 7 with visuals from 8 and some new stuff added in), and if more people start using it my father could use having someone with Windows 10 to familiarise himself with it. All my programs (thankfully) remained, since it was a simple upgrade, and all that jazz (even Windows Media Player, which was slated to be removed).

The only unfixable problem I've run into is that the songs that I have that had Japanese titles, either with specific Kanji or other Japanese characters, or with Romanji letters, have been butchered into displaying as absolute gibberish, not necessarily the typical boxes that display for an unrecognised language, but alphanumeric nonsense.

ŒN'̂܂܂Łi's'uƒAƒjƒuƒAƒ}ƒKƒ~'r'rvƒI[ƒvƒjƒ"ƒO‹Èj

The title of that song is "Kimi no Mama de", though I wouldn't fault for not obviously being able to tell at first glance. That title was in Kanji.

'Œ'‰'"'"'Œ'…@'ƒ'Œ''—'Ž

The title for this one is "Little Clown", but instead of Kanji this title was in Romanji letters (seemed to be some extra spacing, the typeface/font was different from the other song titles, like those in English).

I've set my system language for non-Unicode programs to Japanese, a necessary step in making some of the games I have, visual novels from Japan, work and play normally. On Windows 7, this was all that I changed, and the characters displayed as they should have. Here on Windows 10, I've done exactly the same thing, only now I've added an additional language pack (Japanese, obviously) to see if that would help, but ultimately it was fruitless.

Am I just going to have to try and input all the titles back to their original selves manually, or is there a workaround that any of you might know about? Like I said, despite being a flashy "new" 10, it looks like 7 and 8 had a baby, and since nothing of mine was borked (aside from the characters), the programming seems to be more or less the same, so any help would be appreciated. Thanks bros.