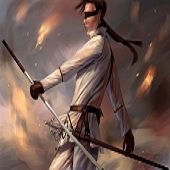 Core Clan Member

Posts: 2175
Joined: Fri May 14, 2010 3:15 pm
Location: Everywhere, Every Universe.
General In-Game Name:
So I got an idea for a drawing I wanted to do but I realised that I needed to get some help drawing. So, I looked up some tutorials on YouTube and here's what I ended up with. I started with the smallsword in the upper left corner based off a reference image from google and continued drawing another sword and an axe. Then I wanted to draw armour, so I looked it up on YouTube and this is what I ended up with. I've also doodled various things around the page, mostly for concepts, like the boot facing the viewer and the disembodied arm to try my hand at folds in clothes.


Come check out my stuff if you want. Love to hear back from people.
If you're looking for something to watch or have any suggestions of your own, drop on by.